Batteries convert stored chemical energy in to electrical energy.
LEAD GEL CELL
Lead gell cell use a gell like substance in stead of acid. Usually found in emergency exit lights and ups batteries.
LEAD ACID BATTERIES
Lead acid batteries generally refer to automotive batteries: cars, trucks and motorcycles.
STEEL CASE BATTERIES
Steel case batteries are big cells in a steel case. Primarily used for electric pump trucks and fork lifts.
LITHIUM ION BATTERY
A lithium-ion battery (sometimes Li-ion battery or LIB) is a member of a family of rechargeable battery types in which lithium ions move from the negative electrode to the positive electrode during discharge and back when charging. Li-ion batteries use an intercalated lithium compound as the electrode material, compared to the metallic lithium used in non-rechargeable lithium battery.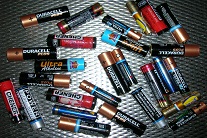 REGULAR BATTERIES
Containers consisting of one or more cells, in which chemical energy is converted into electricity and used as a source of power.