As a leading Canadian recycler, we accept and collect all of your recyclable material.
These metals are as important to every day life however are generally much less common.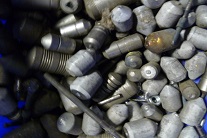 Tungsten
Tungsten is grey in colour, it is dense, brittle and hard. It has many applications such as incandescent light bulbs and x-ray tubes. It is also becoming quite popular in jewelry.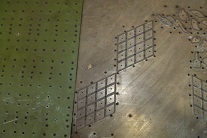 Magnesium
The main use for magnesium is in aluminium alloys. It is light, a silvery white colour, and is non magnetic.
Carbide
Carbides are compounds of carbon and other materials, e.g., tungsten carbide.
Titanium
Titanium has a low density, it is silvery grey in colour and is non-magnetic. Titanium is very strong and very light (strong as steel light as aluminium). Making titanium useful in the aerospace industry. It is also used in madical, automotive and sporting goods industries to name a few.
Compressors
Machine for increasing the pressure of a gas by mechanically decreasing its volume. Air is the most frequently compressed gas, but natural gas, oxygen, nitrogen, and other industrially important gases are also frequently compressed.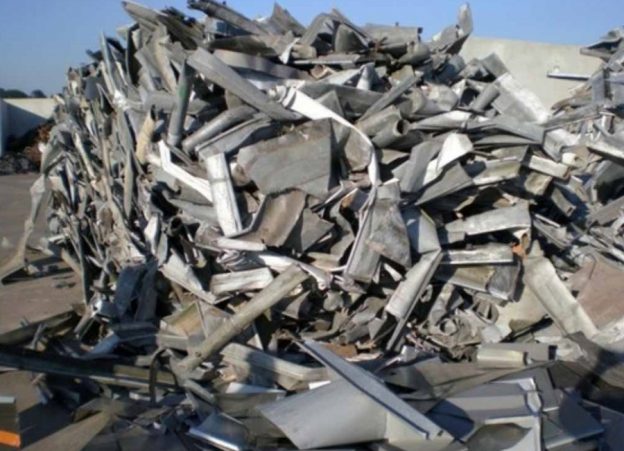 Why is Zinc Recycling Different?
Zinc is used heavily in building structures like metal roofs, plumbing, structural support, and other such components. The recycling process is different because of the fact that most zinc material is used in conjunction with other metals (for example, the metal needs to be separated from steel in order to be recycled, which adds an extra step to the recycling process). Fortunately, technology has advanced enough to improve the process and now 90% of the collected products that contain zinc can be recycled through the zinc reclamation process.
The Separation Process
This means both zinc and steel can be extracted from the waste material easily and effectively. Galvanized steel products are the most common source of recycled zinc and are often recycled through the Electric Arc Furnace (EAF) heating process. Here's a brief description of it:
The scrap metal is placed inside the furnace and heated until the zinc becomes volatile.
At this stage, zinc separates from steel in a gaseous form and is collected from the furnace.
This gas is treated to turn it back to a solid state and it forms zinc dust.
The dust is then melted in a kiln, where it turns into zinc oxide.
Zinc oxide is one of the primary raw materials in the production of zinc and can be used to create the metal once again. This cycle can be repeated numerous times without any problems with the metal.
What are the Benefits of Recycling Zinc?
There are a number of environmental and economic benefits of zinc recycling in Toronto and these include:
Conserving a non-renewable resource – Zinc is a non-renewable resource and will eventually dry out. Recycled zinc makes up for 40% of worldwide usable zinc and this number will only increase as the recycling technology develops. It's better to recycle and reuse zinc now than deal with its scarcity later.
Reducing waste – If zinc is recycled, it's not filling the landfills and causing damage to the environment. The more zinc we recycle, the less it burdens the environment and the economy because maintaining landfills and increasing amounts of waste can cost money.
Impact of extraction on the environment – Zinc extraction can be a considerable burden on the environment. Dust, metal particles, chemicals, and harmful gasses are released into the environment during the extraction and refining process. While companies try to reduce emissions as much as they can, the process still harms the environment. The recycling process is safer and more affordable too.
Can You Recycle Rusted Metals?
Rust is the common name for a chemical compound known as iron oxide. This compound forms when iron reacts with water and oxygen, presenting itself as a rough, orange-red substance. Technically speaking, only iron and alloys that contain iron can rust. Other metals, including precious metals like gold and silver, can corrode in a similar way.
What sets certain metals apart?
The duration of time it takes for certain metals to begin rusting (or corroding) is what sets these materials apart. Regardless, in almost all cases, rust is a nuisance. Not only is it unsightly, its a hindrance to functionality as well. If you allow rust to exist on a metal object for a long enough period of time, it can start to eat through the object, slowly compromising its structural integrity.
The good news, however, is rust can often be removed. Because it can be removed, rusted metal objects can usually still be recycled.
Be warned though. The more rust that eats away as a metal object, the less that object is going to weight, and the less money you'll be able to get for recycling it.
Does Copper Rust?
Copper does not rust, however, it does corrode. Copper is naturally brown and turns a shade of bright green as it corrodes. While some consider copper's reaction to be tarnish rather than oxidation, the metal still undergoes a similar "rusting" process.
Reducing the recycling value.
The fact of the matter is that regardless of whether or not you remove it, rust can reduce the recycling value of a metal item. For this reason, its wise to try to prevent rust from forming in the first place.
If you have metal object that are only slightly rusted, you can usually rid remove the rust in just a short amount of time. There are a number of substances that can be used to remove rust from metal. In most cases, however, its easiest to try to remove rust with a sander or grinder.
If you have have heavily-rusted items on your hands, and if you're looking to recycle them, your best bet would be to sell them to a metal recycling company. After rust is already caked on any object, its nearly impossible to remove entirely.
However, keep in mind that a metal recycling company will be able to melt down your rusted metal objects, separating their usable parts so that they can be used for new purposes.