In today's modem world network equipment is basically anything that helps people or computers communicate.
LAPTOPS
A laptop is a portable personal computer with a clamshell form factor, suitable for mobile use.[1] They are also sometimes called notebook computers or notebooks. Laptops are commonly used in a variety of settings, including work, education, and personal multimedia.
DISK DRIVES
A disk drive is a randomly addressable and rewritable storage device. The term can be broadly interpreted to include optical drives and in earlier times, floppy drives. However, in popular usage, it has come to relate mainly to hard disk drives (HDDs).
SWITCHES & HUBS
A Hub is a common connection point for devices in a network. Hubs are commonly used to connect segments of a LAN. A hub contains multiple ports. A Switch, in networks, is a device that filters and forwards packets between LAN segments.
MODEM/ROUTER
Modems are used to provide internet service. Routers are used to split internet signals.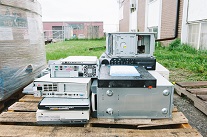 SERVERS
Servers are used to store data and link computers. The data is stored on the server and multiple computers can access the data.
FINGERBOARD
A board that has many electrical circuits and that is used in a piece of electronic equipment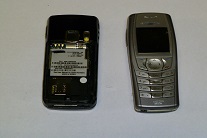 MOBILE COMMUNICATION DEVICES
A mobile device (also known as a handheld computer or simply handheld) is a small, handheld computing device, typically having a display screen with touch input and/or a miniature keyboard and weighing less than 2 pounds (0.91 kg).[citation needed] Nokia, HTC, LG, Motorola Mobility, BlackBerry, Samsung, and Apple are just a few examples of the many manufacturers that produce these types of devices.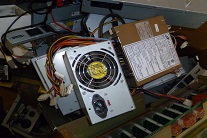 POWER SUPPLIES
Found inside computers, laptops, and servers to name a few. Power supplies regulate and maintain a constant voltage, even if the source of power has fluctuating voltage. Maintaining a constant voltage in today's electronics is very important. Fluctuations in voltage can decrease the life expectancy of consumer electronics.
MOTHERBOARDS
A printed circuit board containing the principal components of a computer or other device, with connectors into which other circuit boards can be slotted.
HARD DRIVES
A high-capacity, self-contained storage device containing a read-write mechanism plus one or more hard disks, inside a sealed unit. Also called hard disk drive.