As a leading Canadian recycler, we accept and collect all of your recyclable material.
Metal drawn out into the form of a thin flexible thread or rod.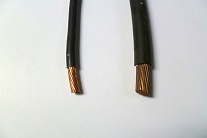 #1 Wire
1/0 and bigger in diameter (about the size of the average pinky finger) with a thin insulated covering, e.g., T90. Copper conductor must be free of tin plating.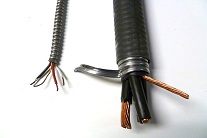 BX Wire
BX Wire or armored cable is usually 3-4 copper conductors with a bare copper conductor for ground. It has a protective aluminium casing on the outside. 14awg-8awg are the most common sizes.
2 Low grade
#2 Low grade is insulated copper wire with a low copper recovery. Examples of low grade are as follows USB cables, RCA cables, speaker wire, power cords with the plug ends left on, computer ribbon cable, most car wiring harness', telephone cords, s-video cables, HDMI cables, mouse and keyboard cords, ac adaptor cords and anything with a low copper content.
Lead cable
Lead cable is copper a conductor insulated with paper and than coated with lead shielding. Lead cable can come in the form of power cables (single large stranded copper conductor) or comm cable (dozens of pairs of individually insulated copper conductors).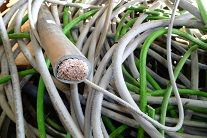 #2 Tin plated wire
#2 Tin plated wire is a copper conductor plated with tin and wrapped in insulation. #2 tin wire varies in size and copper content.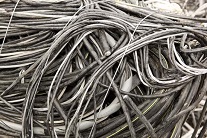 Insulated aluminum wire
Widely used highly conductive wire made from Aluminum and insulated with a plastic cover.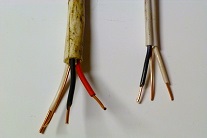 Romex
Romex is usually 14awg-8awg. It has 1-4 insulated copper conductors and a bare copper conductor for ground. It also has an extra layer of plastic insulation surrounding the insulated copper conductors and bare ground. Romex also comes in aluminium though not very often.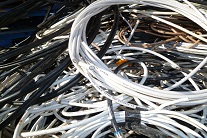 Coaxial cable
Coaxial cable is most widely used for T.V. applications, e.g., connecting V.C.R to TV or satellite etc. or nowadays modem to computer. It is usually an insulated steel core with a copper flashing surrounded with a copper or aluminium braid with an extra layer of insulation. Coax is considered the lowest grade of wire. Video coax on the other hand has a copper core with a copper braid and is much better than regular coax.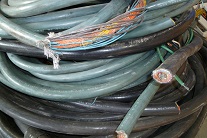 Traveling cable
Travelling cable is multiple individually insulated copper control cables usually 16awg-18awg housed in a second insulation with paper or fibre running through it. Travelling cable also has a steel cable down the centre.
Pyro
Pyro has a single solid copper conductor with a powdery white insulation, wrapped by another layer of copper.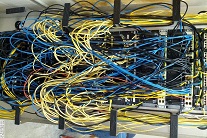 Spaghetti Wire
Spaghetti Wire is insulating tubing typically of varnished cloth or of plastic for covering bare wire or holding insulated wires together.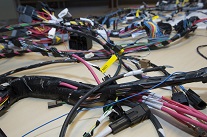 Communication Wire
A cable that transmits information signals between geographically separated points. The heart of a communications cable is the transmission medium, which may be optical fibers, coaxial conductors, or twisted wire pairs. A mechanical structure protects the heart of the cable against handling forces and the external environment.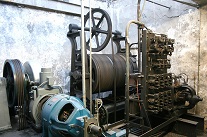 Mixed Elevator Cable
The most popular elevator design is the roped elevator. In roped elevators, the car is raised and lowered by traction steel ropes rather than pushed from below. These steel ropes are dubbed elevator cables
The 7 Types of Scrap Copper Wire
When you are looking to collect up your copper wire for the scrap yard, it is important to know how to determine the different types of copper wires before bringing it in.
 
Bare Bright Wire
The colour of the wire will be a faint orange/yellow and bright colour. The wire itself will have a shine to it without any oil or shellac on the outside.
#2 Copper Wire
The colour of the wires from electric motors can range from a darker burnt orange colour to reddish colour. When you see the wires next to bare bright copper wire you can see the difference.
Tin Coat Wire
Tin coat copper wire is going to be a lower price from Bare Bright Wire. It is coated in tin (silver in colour). This used in various types of cable to lower the percentage of copper for cost efficiency.
Insulated Copper Wire
This is a common type of copper wire you will normally find from electronics and appliances. Usually, it's not worth to strip this wire for the copper inside due to the lack of recovery.
Computer Wire
These wires are going to be the ribbon wire and also board wires from inside your computer towers. Typically scrap yards will buy these wires differently compared to the regular insulated wires because they have less copper.
THHN Wire
Otherwise known as 10-14 gauge wire or spaghetti wire has solid copper inside. THHN is a name given that means Thermoplastic, High Heat, Nylon coated…and while that may not matter to you when scrapping, it is still a cool thing to be able to know!
Romex®Wire
Romex® wire a brand of housewire or non-metallic wire is electrical wiring commonly found in homes. Generally, you can make more money by stripping the wires to get to the copper. Housewire has two jackets covering the copper inside
Once you know the basics of types of copper, it will be easier to sort them. As you learn more, be sure to ask us here at Manville about how we sort and separate copper scrap, so you know how it's purchased and recycled.