An alloy of copper and zinc.
Brass is a yellowish gold color and for the most part is non magnetic, although some brass may have the slightest drag. Brass has many uses some of which are gears, doorknobs, ammunition shell casings, bushings, plumbing valves and elbows, and musical instruments.
PLUMBING SCRAP
Material left over from plumbing changes to your home, whether it be from a leaky pipe or simply an upgrade can be used for scrap metal. Old plumbing is usually comprised of copper tubing and brass fittings.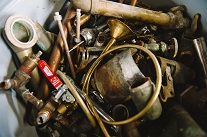 OLD YELLOW BRASS
Old yellow brass consists of taps, faucets, p-traps, chrome plated plumbing accessories, shower heads, keys, padlocks,and figurines to list a few. Must be free of plastic, steel and other contaminants.
BRASS TURNINGS
Are the leftover materials from brass being cut on a lathe. Turnings may also contain chips or solids (small pieces of brass).
GEAR BRASS
Big brass gears mostly used in elevating installations. Gear brass is alloyed with tin.